Solutions for your high efficiency industrial asynchronous motors
Copper cage rotors
Scroll
The benefits of die-cast copper rotors
Return on Investment
Over a lifespan of ten years, the overall cost of an electric motor breaks down as follows : 2% for purchase , 3% for maintenance and 95% for power consumption.
The power consumption savings are due to the excellent conductivity of copper, allowing you a less than 7 months Return On Investment, thanks to the replacement of the aluminium rotor by a 3 kW copper rotor motor (Based on an annual use of 3000 hours).
Cost : 0,10 €/kWh – Europe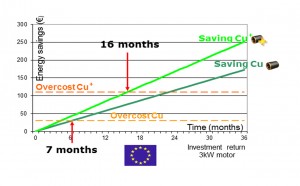 Improved power density
At the same power, the motor with a die-cast copper rotor will be less voluminous and will weigh and cost less than the aluminium motor rotor.
Reduced CO2 emissions
The use of a die-cast copper rotor instead of an aluminium rotor, results in decreased power consumption, reducing by about 3.8 tons of CO2 emissions during the lifespan of a 3 kw motor.
Based on : 3000 hours of use per year for 15 years. 0,46 kg of CO2 /kWh - Europe
Increased motor lifespan
The use of copper instead of aluminium helps lower the motor temperature by up to 30°C, thereby increasing the lifespan of the asynchronous motor.
Uses/Applications
Taking into account the energy efficiency of drive systems is now an essential part in many industrial sectors. Choosing copper rotors for asynchronous motors does increase performance.
INDUSTRIAL KNOW-HOW
As an industrial subcontractor, we study, industrialize, and produce die-cast copper rotors. 
Our 'mini-factory' organization
At FAVI, our challenge is to place our customers at the centre of attention for each one of our employees, who organize production in our autonomous and independant mini-factories. Each mini-factory is dedicated to one customer or product and piloted by a team leader. All back-up services, such as Sales, QC and maintenance are closely integrated to favour reactivity, proactivity and communication.


EVENTS
2 December 2019
Euroguss 2020
   FAVI will exhibit at EUROGUSS 2020 in Nuremberg from January 14 to 16. Visit us in Hall 8, booth 302. More information about the show
SEND US YOUR PROJECT
CONTACT